YSI Pre-conference "Financialization in Peripheral economies"
November 12 2019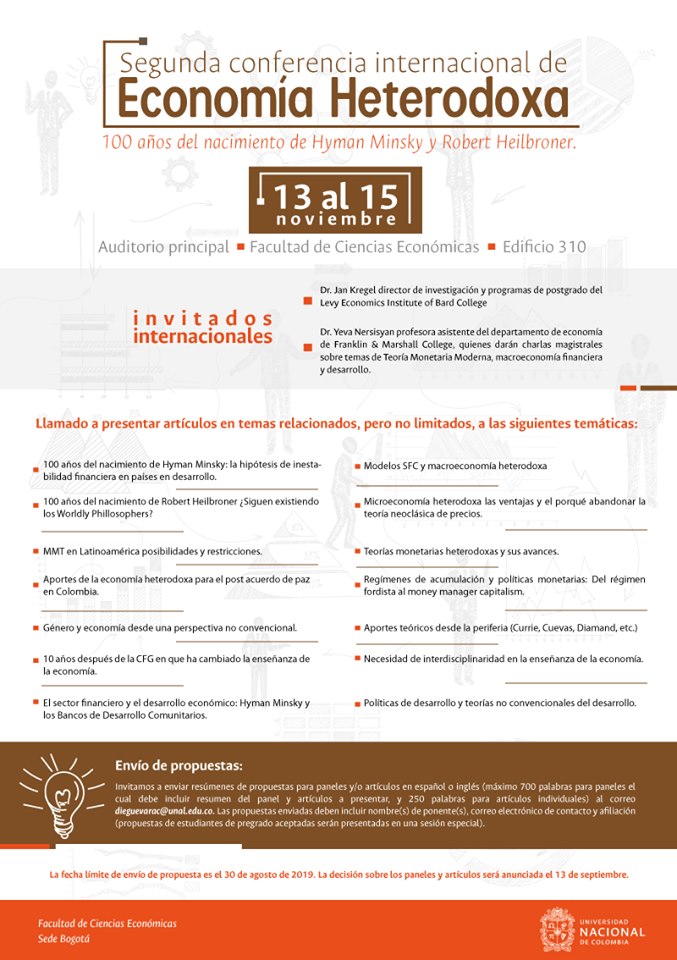 Pre-Conference workshop
There is an increasing interest on the effect of Financialization on the process of economic development. While the role of financial motives, financial markets, and financial actors in the economy has been widely investigated with reference to mature countries, only in recent times the literature has started to address also their influence in developing contexts.
As a matter of fact, this workshop wants to offer to Young Scholars a state-of-the-art debate on this field among the prominent speakers that will take part at the Second International Conference on Heterodox Economics ("Segunda Conferencia Internacional de Economia Heterodoxa") in Bogotà, Colombia. This panel will open the Second edition of this Conference, organized by the Group of Socioeconomics, Institutions and Development of the National University of Colombia (Grupo de Socioeconomia, Instituciones y Desarollo, Universidad Nacional de Colombia).
The session will consist in a seminal lecture by Professor Vernengo, which will be discussed by the local scholars involved in the organisation of the main conference. The lecture will be followed by a presentation of the Young Scholar Initiative and a project brainstorm aimed at strengthening the regional network and involving local student at the activities of the Economic Development Working Group.
Time & Date
Start: November 12 2019
End: November 12 2019
Project Organizers


For questions, the Project Organizers.