Young Scholars Development Programme on Input and Output Analysis
YSI-IIOA Development Programme 2022
August 28 - September 2 2022
The programme provides young scholars with opportunities to learn from experienced researchers and to join the thriving input-output community.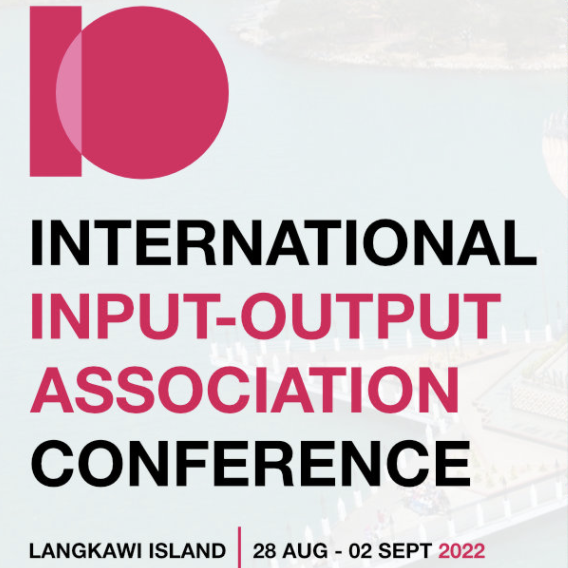 Development Programme
The funding application is now closed.
Introduction
Recent improvement in data availability have put input-output analysis back on the top of research agendas of economists: contemporary challenges, such as climate change, economic growth and natural resources, economic crisis and inequalities, require a systemic view and input-output (I-O) analysis represents an important tool for economists to understand the complexity of our economies. To support a new generation of economists using I-O analysis, the YSI Working Groups on Urban and Regional Economics, and Sustainability are partnering up with the International Input-Output Association (IIOA) to invite Young Scholars to apply for participation in the jointly organised 2022 Young Scholars Development Programme in Input-Output Analysis. The event will take place one full day during the International Input-Output Conference, held in Langkawi Island (Malaysia) from August 28th to September 2nd. The Young Scholars Development Programme (DP) aims at providing students and early-career researchers with opportunities to learn individually from experienced researchers in the input-output community. Attendant to this aim, the YSI will support the participation of highly motivated young researchers.
The International Input-Output Association (IIOA)
The IIOA is a global, scientific organisation that is concerned with the advancement of knowledge in the field of Input-Output data compilation and analysis. The IIOA delivers these core objective by supporting young scholars, widening the awareness of the organisation, providing exchange of experience through the global annual conference. The input-ouput community is interested in understanding a wide range of related issues, such as energy, environment, international trade, financial flows, regional analysis, ecological sustainability and well-being. More information on the IIOA can be found on their homepage https://www.iioa.org/.
2022 Young Scholars Development Programme: Format and Application
The Development Programme is part of the annual International Input-Output Conference and specifically targets the scientific development of young researchers using input-output data. Participants of the DP will be assigned an experienced discussant, which whom they share their written work with. The discussant will provide detailed advice on the style and structure of the paper, the choice of methods and data, suggestions about how to position the study relative to the existing literature and about how to appeal to a wider range of readers. Participants are encouraged to engage directly with their discussant on what kind of guidance they seek. During the programme, Young Scholars will present their work and can expect to receive individual feedback from their discussant as well as from peers and other experts in the field. The DP will benefit the participants through the rich inter-disciplinary environment that the conference will offer and the opportunity to connect and associate with an international network of researchers in the field of I-O analysis. Each session will last a maximum of 45 minute, with the following format:
Presentation - 15 minutes
Comments by the discussant - 20 minutes
Question and answer with attendees - 10 minutes
Applications to the Development Programme are processed by the IIOA. Thus, more information and the application form can be found on the conference homepage https://www.iioa.org/conferences/28th/conference.html.
YSI Support for Young Researchers
The Young Scholars Initiative will support the participation of highly motivated PhD students, post-docs, and early-career professionals who have been accepted as presenters in the DP. If you would like to be considered for YSI funding, an additional application is necessary through this project page after you have submitted your abstract to the main conference. Applications are open and selection is based on motivation and need for funding.
The YSI will provide travel stipends and two nights of accommodation for the selected presenters. YSI Management determines travel stipend amount depending on schedule and circumstance. Priority will be given to regional travel to young scholars based in the Asia-Pacific region, who can obtain a reimbursement of travel costs of up to 300$. A small number of intercontinental travel stipends will be supported, with a reimbursement of travel costs of up to 600$.
Overview and Steps for interested Young Scholars:
Step 1:
Submit your abstract to the 28th International Input-Output Association Conference and apply to the Development Programme via the conference homepage https://www.iioa.org/conferences/28th/conference.html. Deadline is April 11th.
Step 2:
Apply for YSI funding in a separate application which is administered via this homepage. You can apply before knowing the outcome of Step 1. However, only those who are officially accepted by the IIOA as participants in the DP will later be considered for YSI funding.
Application opens in March 2022
Deadline: June 1st 2022
Funding notifications: end of June 2022
Contact:
For more information and questions regarding the Young Scholars Development Programme and YSI funding application please contact urban@youngscholarsinitiative.org or sustainability@youngscholarsinitiative.org.
Time & Date
Start: August 28 2022
End: September 2 2022
Local partners
Working groups
Urban and Regional Economics

Sustainability
Project Organizers

For questions, the Project Organizers.