A Conversation with Ecuadorian presidential candidate Andrés Arauz
YSI Webinar
February 26 2021, 16:00 - 17:30
Presidential candidate Andrés Arauz joins YSI for a conversation about the challenges facing Ecuador.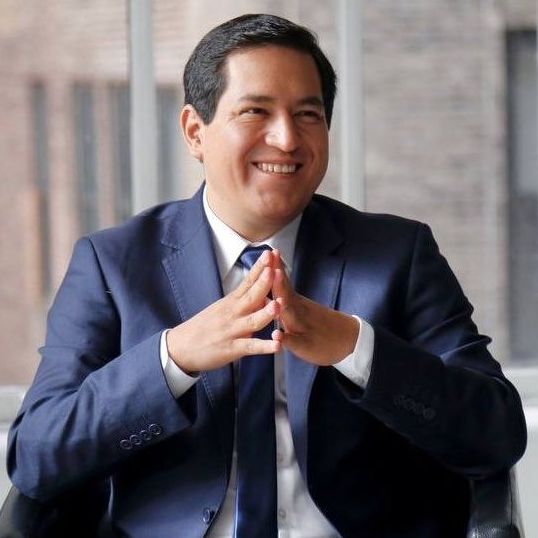 Webinar
Unfortunately, the webinar is being postponed due to of an urgent personal matter. We will inform you as soon as we have found a new date. Thank you again for your interest!
Coming off a victory in the first round of the presidential elections in Ecuador earlier this month, Andrés Arauz, progressive economist of the UNES party and YSI member, joins us to discuss the challenges facing Ecuador and the tremendous responsiblities he may face as head of state if he assumes office. The immediate issue facing the country is the handling of the pandemic and its socio-economic consequences. Furthermore, difficult negotiations with the IMF and international creditors await. The larger questions looming for Ecuador are how to advance the country's economic development agenda and achieve social justice in the context of a dollarized economy and a difficult geopolitical climate.
In order to understand what has shaped his perspective on these challenges we will explore André's academic background in Post-Keynesian and Structuralist economics as well as his experience in working in Ecuador's central bank and as part of Correa's previous cabinet.
Andrés was recently interviewed in the Jacobin Magazine and Democracy Now! and his resume can be found here. He has been a YSI member since 2018. The second round of the presidential elections will take place on 11 April, and the winner assumes office on 24 May.
Recording
No recording available.
Time & Date
Start: February 26 2021, 16:00*
Duration: 90 minutes
*Time is displayed in your local time zone (Africa/Abidjan).
Presenters
Andres Arauz
Mexico City, Mexico
Maria Cecilia del Barrio Arleo
Frankfurt, Germany
Gerhardt "Kiko" Kalterherberg
Frankfurt, Germany
Working groups
Latin America

Keynesian Economics

Economic Development

Financial Stability

Inequality
Project Organizers


Maria Cecilia del Barrio Arleo
Gerhardt "Kiko" Kalterherberg



Francisco Javier Ardila Suarez



For questions, the Project Organizers.