3rd Conference on Development Planning "Julio H.G. Olivera".
3rd Olivera Conference 2021
July 2021 - August 2021
3rd Olivera Conference 2021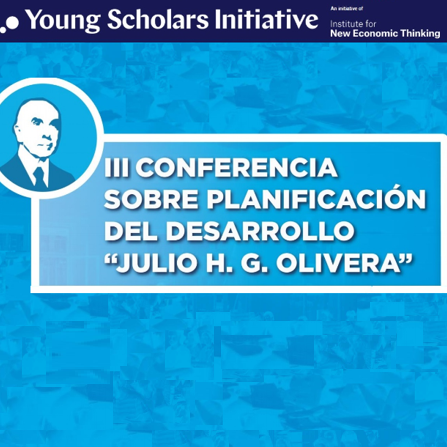 Webinar Series
Description
'Do you want to raise economic growth's rate in a persistent way? Promote education. Do you want economic growth to be translated into a long-lasting economic development? Promote education. Do you long for economic development to bring progress and wellbeing for everyone? Promote education. Invest the most on the best possible education. Encourage the sciences, literature and arts, natural and cultural sciences. (…) The sure path driving from hardship to abundance does not diverge from that driving from ignorance to knowledge and from error to truth.'
Prof. Julio H.G. Olivera*
The COVID-19 pandemic represents an unprecedented global crisis. Its emergence is the result of the unequal and ecologically unsustainable ways of life imposed by capitalism. Its rapid global expansion reflects the profound integration of the mode of production in which we live, but its unequal impact and the asymmetries in public policy responses highlight the deepening and visibility of existing inequality both between countries and between the inhabitants of the same country, in this case in terms of class, gender, age and ethnicity, among others.
The effects of the pandemic also accelerated many geopolitical trends that had been looming beforehand, while highlighting previously hidden vulnerabilities. Disruptions in global value chains, the deepening of the US-China dispute, the financial vulnerabilities faced by developing economies, the impact of the intellectual property rules regime on the possibilities of pursuing appropriate public policies in underdeveloped countries (notably in the health sphere), were tensions (among many others) that emerged, increased and conditioned the impacts of the pandemic. The COVID-19 crisis also reaffirmed the urgency of resolving the ecological disaster that the Anthropocene era has generated.
This confrontational context has enormous implications for Latin American countries, which suffered the most from the economic impact of the COVID-19 crisis at the global level. How do people in Latin America stand in the face of this situation? What alternatives can we think of to plan a development process that minimises environmental impacts? Is sustainable development an opportunity to modify the productive structure, transforming both industrial processes and the way in which we produce goods?
These questions invite us to discuss the state's capacity to assume a transformative role and demand a new conceptualisation of its insertion (autonomous or subordinate) in the prevailing economic and social relations. This debate requires taking up different contributions from political economy in conjunction with other social sciences, as well as including diverse perspectives long ignored by development theory, such as gender relations and their role in explaining inequalities and in conceiving other ways of life, and studies on climate change that force a complete rethinking of the productive matrix.
From this need and the joint efforts of several universities, institutions and organisations, the 3rd "Julio H.G. Olivera" Conference on Development Planning aims to consolidate an active space for transformative research, education and debate among researchers, teachers and students united by the vocation to build an equitable, developed, plural and democratic society. The Conference will feature guest speakers from Argentina and abroad, multiplying the possibilities for debate and exchange in a pluralistic, broad and inclusive framework.
This year, the Olivera Conference will be divided into two parts. During July, a webinar series will be held where prominent speakers will discuss the main global and Latin American challenges facing the pandemic and the post-pandemic era. On the other hand, a hybrid (face-to-face and online) conference will be held in Buenos Aires in December. Details and the call for papers for this second event will be announced during the webinar series.
Further information: https://conferenciaolivera.wordpress.com/
UPCOMING EVENTS
PAST EVENTS
Working groups
Economics of Innovation

States and Markets

Complexity Economics

Latin America
Project Organizers




For questions, the Project Organizers.
YSI Webinar
Session 3: The State and geopolitics in a post-pandemic world
The State and geopolitics in a post-pandemic world
Speakers:
*Jayati Ghosh (University of Massachusetts Amherst),
Victor Ramiro Fernández (Universidad Nacional del Litoral/CONICET)
Adam Tooze (Columbia University)*
Chair:
**Pablo Bortz (Universidad Nacional del Oeste/CONICET)
Recording
You must login to see recordings from this webinar.
Time & Date
Start: July 30 2021, 14:00*
Duration: 90 minutes
*Time is displayed in your local time zone (Africa/Abidjan).