YSI IUC Web-Seminars in FInance, Law & Economics
YSI IUC Web-Seminar Series 2021
June 2021 - September 2021
Struggles created by the COVID-19 pandemic have created a renewed need to investigate possible responses to frame the post-pandemic environment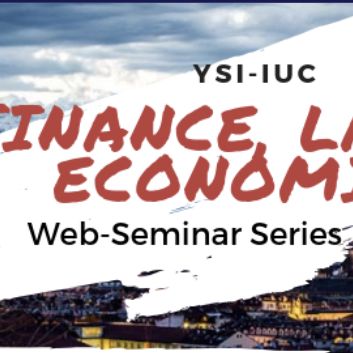 Webinar Series
Description
In cooperation with the International University College (IUC) of Turin, the INET YSI Finance, Law and Economics Working Group want to invite you to the YSI IUC Web-Seminars in Finance, Law, & Economics.
As the name indicates, web-seminars are events that will take place both in the digital classroom through the YSI platform (https://ysd.ineteconomics.org ) and in the physical classroom at IUC (Piazza Paleocapa 2, Turin, http://www.iuctorino.it ). These web-seminars will feature both senior and young scholars working on different topics in finance, law and economics with focus on novel research and issues that draw public attention. The speakers will be invited to share more extensively on their research paths; and discuss further issues in the field for young scholars to pursue.
As both YSI and IUC promote critical and heterodox thinking, so will the web-seminars. Furthermore, ongoing issues and struggles brought on by the COVID-19 pandemic have resulted in the need to investigate possible responses to frame the post-pandemic environment as well as rethink the preexisting global capitalist framework. The web-seminars will encourage an interdisciplinary approach to tackle questions posed by economists, finance experts, policy makers and lawyers seeking to present holistic solutions to interconnected global challenges.
We invite you to join us in the audience as well as engage in discussion that could lend itself to future research endeavors. Participants who are located in Turin are welcome to join in-person, as long as they conform to IUC Turin's policies. YSI still discourages travel to any events. While the event will be managed with care, YSI cannot guarantee COVID-19 safety nor vaccination status and each participant is responsible for their own safety. Local face covering protocols will be enforced, but we will not require temperature checks or ask for a health history.
UPCOMING EVENTS
PAST EVENTS
Working groups
Finance, Law, and Economics
Project Organizers



For questions, the Project Organizers.