YSI IUC Web-Seminars in FInance, Law & Economics
YSI IUC Web-Seminar Series 2021
June 2021 - September 2021
Struggles created by the COVID-19 pandemic have created a renewed need to investigate possible responses to frame the post-pandemic environment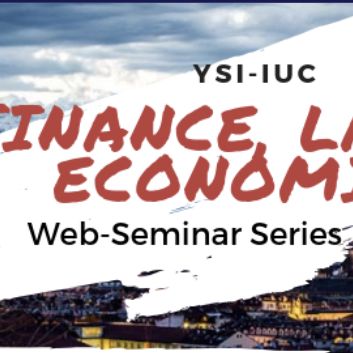 Webinar Series
Description
In cooperation with the International University College (IUC) of Turin, the INET YSI Finance, Law and Economics Working Group want to invite you to the YSI IUC Web-Seminars in Finance, Law, & Economics.
As the name indicates, web-seminars are events that will take place both in the digital classroom through the YSI platform (https://ysd.ineteconomics.org ) and in the physical classroom at IUC (Piazza Paleocapa 2, Turin, http://www.iuctorino.it ). These web-seminars will feature both senior and young scholars working on different topics in finance, law and economics with focus on novel research and issues that draw public attention. The speakers will be invited to share more extensively on their research paths; and discuss further issues in the field for young scholars to pursue.
As both YSI and IUC promote critical and heterodox thinking, so will the web-seminars. Furthermore, ongoing issues and struggles brought on by the COVID-19 pandemic have resulted in the need to investigate possible responses to frame the post-pandemic environment as well as rethink the preexisting global capitalist framework. The web-seminars will encourage an interdisciplinary approach to tackle questions posed by economists, finance experts, policy makers and lawyers seeking to present holistic solutions to interconnected global challenges.
We invite you to join us in the audience as well as engage in discussion that could lend itself to future research endeavors. Participants who are located in Turin are welcome to join in-person, as long as they conform to IUC Turin's policies. YSI still discourages travel to any events. While the event will be managed with care, YSI cannot guarantee COVID-19 safety nor vaccination status and each participant is responsible for their own safety. Local face covering protocols will be enforced, but we will not require temperature checks or ask for a health history.
UPCOMING EVENTS
PAST EVENTS
Working groups
Finance, Law, and Economics
Project Organizers




For questions, the Project Organizers.
YSI Webinar
Mutual Aid and the (Post)Pandemic Framework - Prof. Nidhi Srinivas
In this webinar of the YSI IUC Web-Seminars in Finance, Law & Economics, Nidhi Srinivas, the Associate Professor of Management at Milano School of Policy, Management, and Environment, will present some insights from his current research regarding mutual aid responses to the pandemic in three different cultural and economic settings (Hyderabad, India; New York City, the United States; and Turin, Italy).
The COVID-19 pandemic has changed the global social and political landscape in a variety of ways. Over the past year and a half, these changes have been theorized in terms of rising state authoritarianism (Agamben), necropopulations (Mbembe, Shah & Lerche), infodemics (the Comaroffs), and an enduring crisis of accumulation (McNally and Tyner). The continuing crisis may further uncover new forms of theorizing.
What can these forms of theorizing tell us about solidarities and organizational forms? What would it mean to theorize with a different focus, on questions of agency not solely structural and social failures?
An interesting response in this regard has been the rise of mutual aid groups globally, as people in localities seek to help one another in the midst of a flagging and failing state responses to the pandemic. These mutual aid groups rely on extra-market transactions and socially enriched relations, and frequently comprise people otherwise marginalized or excluded. "Mutual aid" originated as a term in 19th century anarchist traditions. It was a counterpoint to organized forms of capitalism, standing for both an alternative to dominant capitalist organizational forms, and a means to resist capitalism itself. Today its advocates claim mutual aid offers an alternative to abstracted market ties and describes enduring (and endearing) responses to the pandemic: people helping each other out, even through barter, enhancing social engagement by singing together from balconies.
In this webinar, Prof. Srinivas will argue that the term 'mutual aid' lacks a precise signifier, and instead reveals different relational configurations in each of these settings, shaped by local histories and power arrangements. His conclusion will consider the political consequence of mutual aid: for instance, it could be argued that such groups ameliorate the pandemic's consequences, making current capitalist conditions more bearable globally. On the other hand, they may indeed signify a rising organizational alternative to contemporary capitalism, and an alternative that could become even more urgently needed as the current global recession worsens, and the pandemic continues.
Recording
You must login to see recordings from this webinar.
Time & Date
Start: July 7 2021, 14:00*
Duration: 60 minutes
*Time is displayed in your local time zone (Africa/Abidjan).