Early Career Days
Community-wide Event
November 18 - 20 2021
Three days of conversations on early career challenges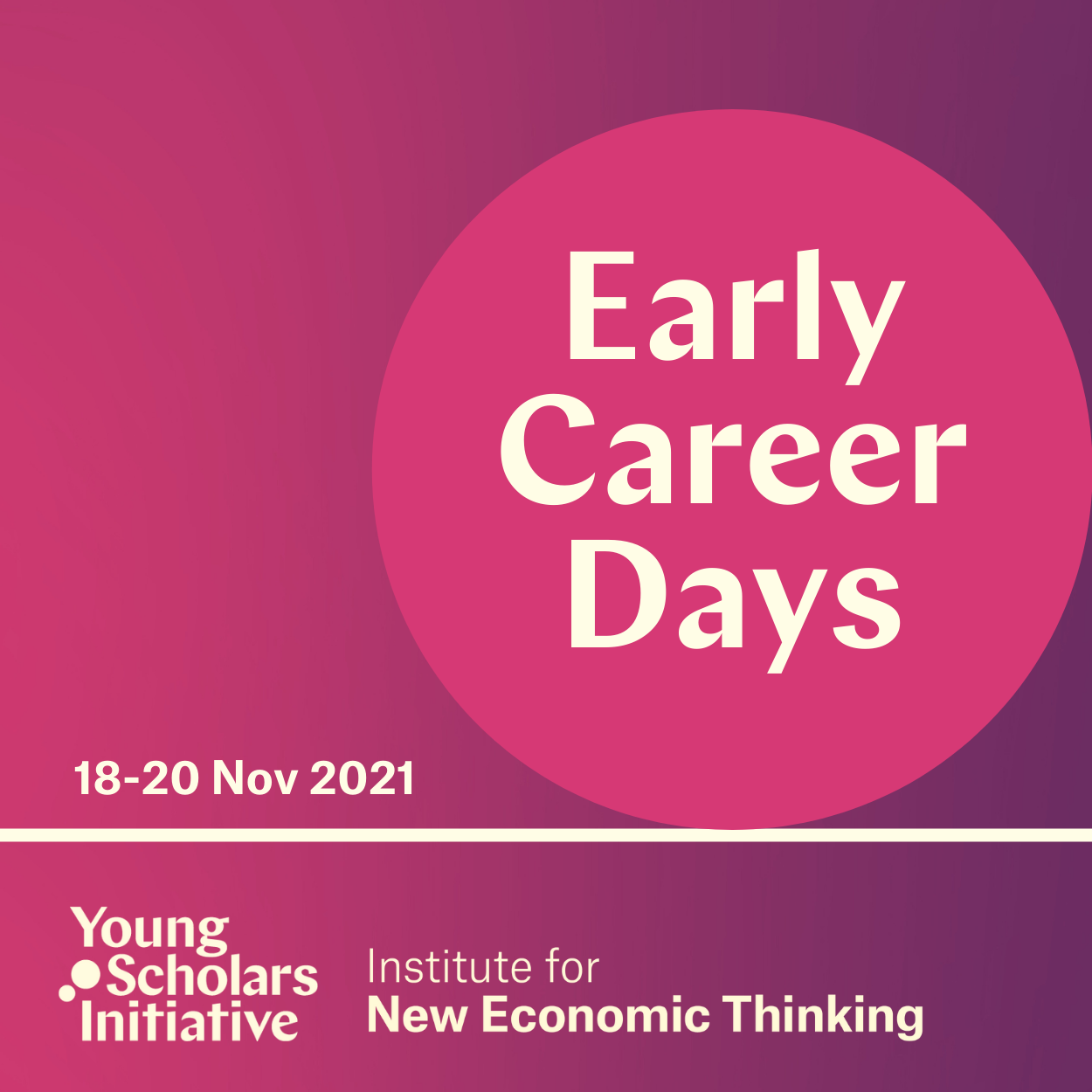 Workshop
Virtual, free, and open to all
publishing • the job market • writing • teaching • mental health • work-life balance
As young scholars we are confronted with many challenges: publishing, teaching, the job market, work-life balance and institutional barriers. Often we face these demands alone and without much institutional or even moral support.
At the YSI Early Career Days we begin to confront these issues as a community by sharing experiences, building resources and providing support to navigate these early career challenges.
Featuring:
Anand Shrivastava (Azim Premji University, Bengaluru)
Carlo D'Ippoliti (Sapienza University of Rome)
Carola Binder (Haverford College)
Cecilia del Barrio (European Central Bank)
Claire Jones (Financial Times)
Danielle Guizzo (University of Bristol)
David Ruccio (University of Notre Dame)
Devika Dutt (Berggruen Institute, University of Southern California)
Fiona Tregenna (University of Johannesburg)
George Akerlof (University of California, Berkeley)
Goncalo Fonseca (INET Education)
Ingrid H. Kvangraven (King's College London)
James Heckman (University of Chicago)
Jayati Ghosh (UMass Amherst)
Jay Pocklington (INET Young Scholars Initiative)
Jean Lacroix (Université Paris-Saclay)
Joris Tieleman (Rethinking Economics)
Juan Acosta (Universidad del Valle)
Lilian Rolim (Universidade Estadual de Campinas)
Lynn Parramore (Institute for New Economic Thinking)
Michelle Groenewald (The North-West University)
Nicolas Aguila (University of Witten/Herdecke)
Paul Dudenhefer (Duke)
Olga Mikheeva (UCL)
Orsola Costantini (UNCTAD)
Paul Dudenhefer (Duke University)
Peter Bent (Trinity College)
Peter Bofinger (University of Würzburg)
Rob Johnson (Institute for New Economic Thinking)
Sam de Muijnck (Rethinking Economics)
Sara Stevano (SOAS, London)
Surbhi Kesar (SOAS, London)
Tinashe Nyamunda (University of Pretoria)
William Hynes (OECD New Approaches to Economic Challenges)
View the program
https://ysiproject.org/program
Register now
Time & Date
Start: November 18 2021
End: November 20 2021
Working groups
Philosophy of Economics

Inequality

Financial Stability

Economic Development

History of Economic Thought

Behavior and Society

Economics of Innovation

Africa

Complexity Economics

Cooperatives

Economic History

Finance, Law, and Economics

Gender and Economics

Keynesian Economics

Latin America

Political Economy of Europe

States and Markets

Sustainability

Urban and Regional Economics

South Asia
Project Organizers


For questions, the Project Organizers.