REPLICATE REPLICATE - HOW YOU CAN TAKE PART
YSI Webinar on Replication
August 2022 - March 2023
Replicating Empirical Studies in Economics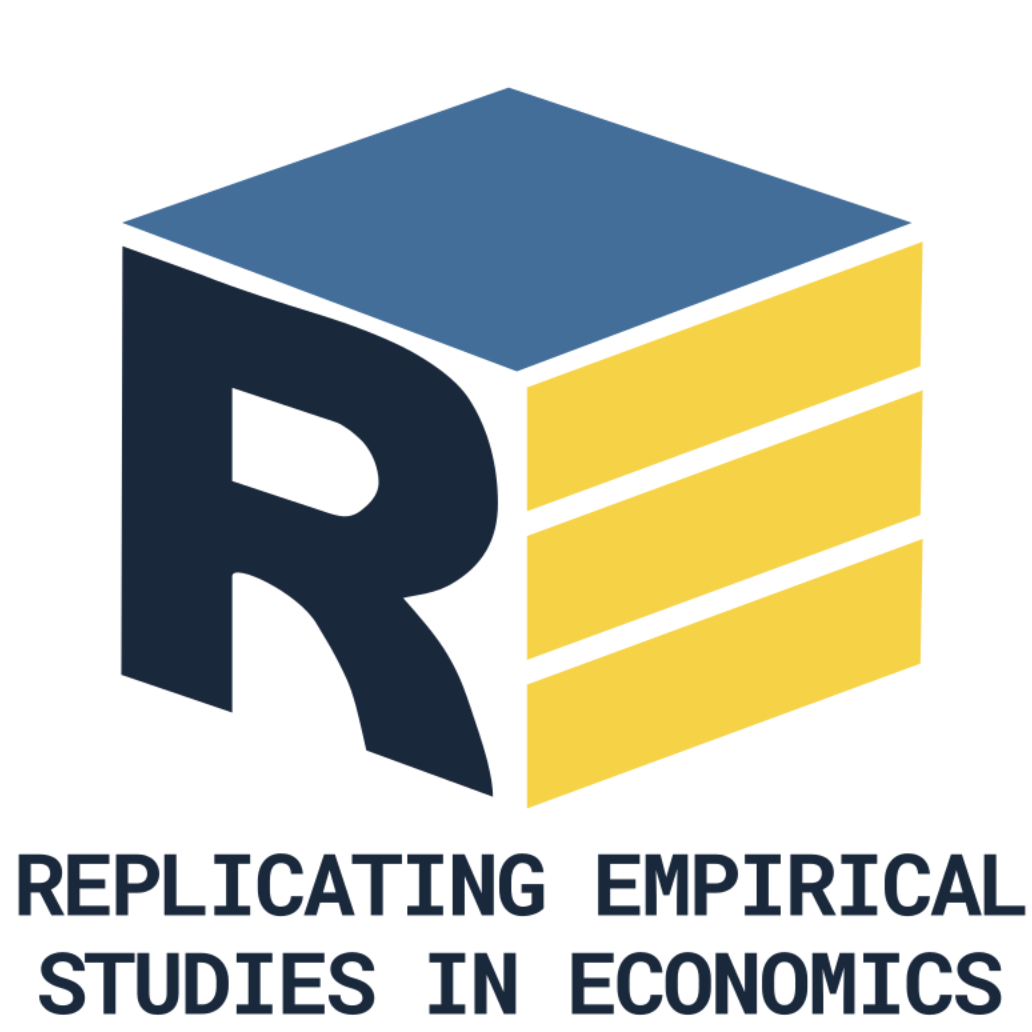 Webinar Series
Description
Have you ever wondered if the results presented in an article or a study you read were correct? Have you ever wondered how the choice of methodology or data can influence results?
IN A JOINT INITIATIVE, ReplicationWiki, Project Teaching Integrity in Empirical Research (TIER), the Philosophy of Economics Working Group (INET-YSI) and the Institute for New Economics Thinking-Education Platform (INET.ED) welcome you to the world of replication supported by experienced instructors.
THE GOAL of the Webinar is to allow each participant to access lectures by replication experts and live Q&A while having a hands-on experience by replicating one study. Also, instructors can reduce their workload by using the webinar's materials for their teaching.
REPLICATION IS IMPORTANT BECAUSE it scientifically reinforces the validity of methodologies and results. In a wide sense it can also be used to check generalizability of results using data that is updated or from different places, and it can help to check previous research using improved or alternative methods.
WE ENCOURAGE students from all levels, PostDocs, lecturers, junior professors to participate. Any social sciences background is welcome: economics, political science, sociology etc, as we will have lectures by experts from different areas who work on replication. No prior knowledge of replication is needed and you don't need to master any specific software.
HOW CAN YOU PARTICIPATE: 3 SIMPLE STEPS
1) BEFORE THE WEBINAR: SELECT A STUDY
Write a four-sentence summary of which study (or studies) you want to replicate and why. Add how would you like to replicate it (with the same data and code as in the original or do you want to deviate?) and specify the availability of replication material. DEADLINE FOR SUBMISSION OF YOUR REPLICATION PLAN: August 15 and send it to replication@uni-goettingen.de
Keep in mind: you can do this on your own or you can challenge one or more friend(s)/ colleague(s) to do it with you
---
2) DURING THE WEBINAR: ACTIVELY ENGAGE
One week before each presentation at the latest a video lecture recorded by an expert will be available. LIVE Q&A sessions will take place at the Philosophy of Economics Working Group in order to discuss its content. Those who cannot make the live sessions can still contribute questions on the respective ReplicationWiki pages, also beforehand
Participants are invited to present their own replication results both in live sessions and on the ReplicationWiki where they will be discussed and open to mutual peer review
Additionally, to help you successfully accomplish your own replication study, all experts are available to advise you on the best way to move forward. Make the most of it!
---
3) AFTER THE WEBINAR: A CERTIFICATE AND A PUBLICATION
"The International Journal of Pluralism and Economics Education" kindly offered to PUBLISH a special issue on the webinar. If you complete your replication study we offer help to publish it either in the special issue, the journal of your choice or in a book to be edited after the Webinar
The Webinar features around 10 expert sessions plus the student presentations (September-December 2022) and if you are replicating a study, share your results and participate in at least 50% of all Q&A sessions, you will be awarded a CERTIFICATE of completion
---
This means that in a best-case scenario you can end the Webinar with a certificate, a replication study (prepared with the support of an expert in our research area), and, a publication.
More information about upcoming sessions already available HERE!
UPCOMING EVENTS
PAST EVENTS
Project Organizers

For questions, the Project Organizers.
YSI Webinar
S8: Replication in political science
This session features a set of two presentations:
Nov 17, 2022 at 8am Colorado (US)/ 10am Quito (EC), Bogotá (CO) New York (US)/ 3pm Lisbon (PT) and Dublin (IE)/ 4pm Berlin (DE)/ 8:30pm New Dehli (IN)
PRESENTATION 1 by
Carolina Curvale (FLACSO-Ecuador) & Gustavo Pérez-Arrobo (FLACSO-Ecuador & University of Colorado Boulder)
Abstract
We explore the incidence of open science in academic research in the field of Political Science. Open science´s goal is to shed light on information about data, research procedures, and results of academic work, thus making information accessible to reviewers and the general public. This practice is not prevalent across the social sciences although there is increasing interest on the importance of reproducibility in building or rejecting theory and knowledge. However, important epistemological and methodological debates have evolved around the feasibility and desirability of adopting these practices as a standard in the discipline. We systematically collected and analyzed data on publishing requirements of the top journals in the fields at point, including pre-registration. We also provide a state of the art on the implementation of these best practices in Latin America.
For more information please refer to the published article "Documentation Requirements in Political Science Journals: Moving Towards Open Access Practices", Revista de ciencia política (Santiago) 41(3), 2021, http://dx.doi.org/10.4067/S0718-090X2021005000108
SHORT BIOS
Carolina Curvale is an Associate Professor of Political Science at FLACSO Ecuador. She holds a PhD in Political Science from New York University, where she also earned a master´s degree. She received her baccalaureate from San Andres University in Argentina. Her main research areas are political institutions and political economy, with a regional focus in Latin America. Her research has been published by Oxford University Press and the Economic Commission for Latin America and the Caribbean, among others.
Gustavo Pérez-Arrobo is a research associate in the Political Studies Department at Facultad Latinoamericana de Ciencias Sociales, Ecuador, and a PhD student at the University of Colorado Boulder. He holds a master´s degree in comparative politics from Facultad Latinoamericana de Ciencias Sociales, Ecuador and a BSc in economics from Pontificia Universidad Católica del Ecuador. His main areas of research are political economy of development, research methodology in political science and Latin American politics.
---
PRESENTATION 2
In What Direction? Replication and Extension of Oskooii 2020 'Perceived Discrimination and Political Behavior'
by Andrej Cvetić (Trinity College Dublin, IE)
Abstract
This paper replicates and extends Oskooii 2020. The original paper uses the Ethnic Minority British Election Study (EMBES) dataset to study how social and political discrimination on individual level influence voting behaviour of minorities. My paper successfully replicates the original results and extends the paper by performing the same statistical procedure on the European Social Survey (ESS) wave 5 dataset for UK and Western European countries. In the extension I analyse the effect of group discrimination on voting. My results indicate group discrimination lowers the propensity to cast a ballot, which runs counter to prevalent findings in the literature.
The replication paper, coding scripts in R and used datasets are available in this link.
The original study that was replicated is "Perceived Discrimination and Political Behavior", Kassra A.R. Oskooii, British Journal of Political Science 50(3), 2020, pp. 867 - 892. https://doi.org/10.1017/S0007123418000133.
SHORT BIO
Andrej Cvetić is a Ph.D. student and Research Assistant at the Department of Political Science, Trinity College Dublin. He is interested in political psychology and immigration. Currently, his research is focused on political integration of immigrants in Western Europe.
---
Please, use the discussion page at ReplicationWiki to comment or ask questions in written form.
Recording
You must login to see recordings from this webinar.
Time & Date
Start: November 17 2022, 15:00*
Duration: 90 minutes
*Time is displayed in your local time zone (Africa/Abidjan).
Presenters
Carolina Curvale
Associate Professor of Political Science (FLACSO-Ecuador)
Gustavo Pérez-Arrobo
Research Associate (FLACSO-Ecuador) and PhD student (University of Colorado Boulder)
Andrej Cvetić
Ph.D. student and Research Assistant (Trinity College Dublin)