Adam Smith tercentary week workshop
YSI Workshop @ Adam Smith Tercentenary Week
June 7 2023
Workshop on 7th June at the 2023 Adam Smith Tercentenary Week being held at the University of Glasgow, UK.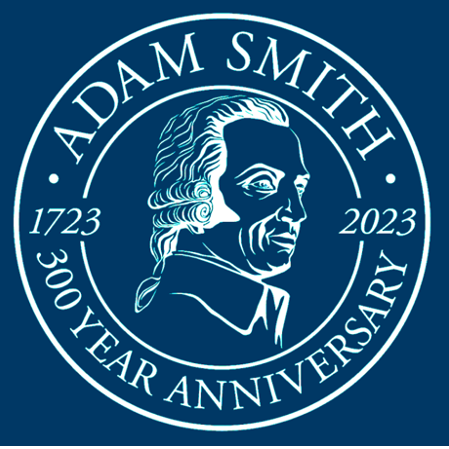 Workshop
This workshop offers young and early career scholars working on Adam Smith a unique opportunity to take part in the 2023 Tercentenary Events in Glasgow, and to get feedback on their work from world-leading Smith scholars.
Introduction
The YSI History of Economic Thought working group is organizing a one-day workshop on 7th June as part of the 2023 Adam Smith tercentenary events being held at the University of Glasgow, UK. This is an exciting opportunity for ten young scholars working on Smith to take part in the prestigious and historic tercentenary events planned at Glasgow, and to discuss their work with peers and senior Smith scholars.
The theme of the workshop will be "Adam Smith at 300". This theme has been left deliberately open-ended to allow space for the broadest range of approaches to Smith's work, including, for example, those working on the contemporary relevance of his ideas, as well as those doing more historicist work.
For other Tercentenary Week events, see https://www.gla.ac.uk/explore/adamsmith300/events/tercentenaryweek/.
Description
The workshop will be divided into morning and afternoon sessions. In each session, five young scholars will have the opportunity to present their work and discuss it with fellow participants. Each session will also be joined by one of our world-leading Smith scholars, Dr Craig Smith and Professor Christopher Berry, who will provide feedback on participants' research as well as giving a short presentation of their own.
Lunch will be provided at the workshop, and there will also be a complimentary dinner afterwards to which the senior scholars will also be invited. Whilst the workshop is a one-day event, the aim of this project is also to provide participants with the opportunity to take part in the full programme of tercentenary events going on in Glasgow that week. We will therefore provide accommodation from 6th-11th June, allowing participants a fantastic opportunity for intellectual engagement and networking.
Participants
We will bring 10 young scholars, whose research is related to the theme of the workshop, to participate, discuss and present their work. The aim is to make this group as diverse as possible.
If you are interested in attending the workshop you should:
(i) be a young scholar (Master, PhD, Post-Doc);
(ii) complete the form by 3rd May: https://forms.gle/8GqCyYyZMQTwoGFJ7.
Invited participants will receive travel stipends and enjoy free lodging during the workshop and Smith tercentenary week. We will let applicants know the outcome by 8th May.
Time & Date
Start: June 7 2023
End: June 7 2023
Working groups
History of Economic Thought
Project Organizers
For questions, the Project Organizers.